Certified Primary Instructor: Level 2
Valid: March, 2017 — March, 2019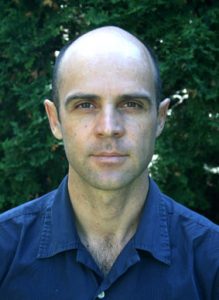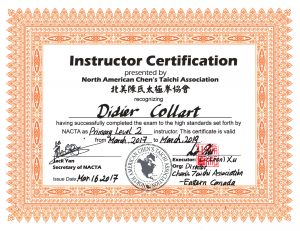 Didier Collart has been involved in physical and energetic oriental practices from its early age. He has progressively explored different way of practicing and discovered the scientific, philosophical, cultural and historical roots of these practices. The main points of interest of his experience are the effects of martial arts on health and well-being and the relations between spirit, mind and body.
He started practice martial arts from the age of 8. He was first introduced to Japanese martial arts like Judo (4 years), Shotokan Karate (4 years), Bozendo and Aikido. During this period, he also practiced different sports at competition level (triathlon, sailing, windsurfing and ski).
At the University of Sciences and Technics of Montpellier (France), he completed a master in Biology and Physiology in 1993 and received a national diploma of sport educator (BEES 1) in 1996 by the Ministry of Sports.
From 2001 to 2003, he was introduced to internal energy practices (Qi Gong, Bone Marrow Nei Kung, Five elements, Six Healing sounds, Microcosmic Orbit, Tao Yin, Chi Nei Tsang Massage…) by Fabienne Pignard-Marthod (École du Tao Vivant, France), certified taoist instructor of the Universal Healing Tao System of Grand Master Mantak Chia.
From 2003 to 2010, he studied Shaolin Kung Fu with Aziz Terchague (Centre des Arts Martiaux de Montpellier, Montpellier, France), 3rd dan Kung Fu, three times winner of the France Cup and three times France Champion and Sifu Mario Hétu (Académie Shaolin Luohan Gong Fu du Québec, Laval, Québec), 35th generation disciple in the shaolin lineage.
During this period, he completed different Kung Fu seminars with Shaolin monks coming from the Shaolin temple. During this period, he learned different Jin Ben Gong, bare hands and weapons taolus, fighting techniques (Sanda), reinforcing techniques, Qin Na techniques.
From 2004 to 2006, he also studied Kung Fu (modern style), Zhi Neng Qi Gong, Tai Ji Quan (Chen and Yang style) with Master Yuan Hong Hai (Jing Wu, Paris) and one of its instructors, Arnaud Kancel (Arjuna Shala, Montpellier, France).
From 2011, he has started to improve its Kung Fu (modern style) and Tai Chi Chen with Master Li Xu (Sino-Wushu Academy, Montréal, Québec). He was certified as an Instructor for Chen's Tai Chi for Health in 2011 and Primary Instructor for Chen's Tai Chi in 2014.
He is studying Cheng Baguazhang from 2013 with differents teachers (Ethan Murchie and his instructors, Master Liu Shuhang).
In 2013, he was certified as a Jianshen QiGong instructor for different classical routines (Yi Jin Jing, Liu Zi Jue…).
During all his life, he also experimented various other physical practises as Ashtanga Yoga, Hatha Yoga, breathing control techniques (Pranayama Yoga, free diving), stretching. He also had the opportunity to be introduced to many oriental cultural and spiritual activities such as calligraphy and chinese painting with Ngan Siu Miu and one of its instructor Danièle Grenier, meditation and mantras (Buddhist, Chan, Zen), tea ceremony, lion and dragon dance, reading writings of oriental great masters and classical boxing treaties…
He has studied chinese medicine as a full time student for 3 years at Rosemont College (Montréal) and graduated as a certified acupuncturist in spring 2016. He is also certified as a massage therapist in Traditional Chinese Medecine from 2012 and as a Qigong instructor by the International Qigong Federation in 2016.
Contact details :
The instructor / massage therapist
Didier Collart
118, Rabastalière Est
Saint-Bruno de Montarville (QC)
J3V 2A5, Canada
equivolution@gmail.com
514-616-6913
The school
Equilibre-Evolution
www.equilibre-evolution.com
equivolution@gmail.com
514-616-6913