Certified Primary Instructor: Level 2
Valid: October, 2017 — October, 2019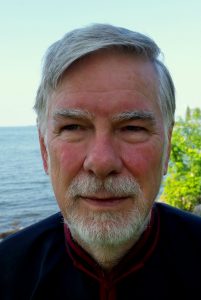 Jim McIntyre started his studies in Yang style Tai Chi in 1995 with Gudrun Leduc of the Five Elements Tai Chi school in Montreal. Later, he learned Sun style Tai Chi, Yang style broadsword, straight sword & fan. In 2010, he started training in Chen's style Tai Chi with Masters Leon Xu and Qian Zhou. Continuing his journey, he participated in several seminars given by Grand Master Chen Zhenglei including Chen's Laojia Yi Lu (Old Frame 1) & Laojia Er Lu (Old Frame 2), Jian (Straight Sword) and Push hands. He also participated in seminars with Jack Yan in Toronto in Push Hands and Chen's Tai chi Applications.
At the 2nd annual Tai Chi competition in Montreal, Jim received gold and silver medals for his Empty Hand and Sword form routines.
Jim is certified as a Primary Level 2 Chen's Tai chi instructor by North American Chen's Taichi Association and Chen's Taichi Association – Eastern Canada.