Margaret Wong
Certified Instructor of Chen's Tai Chi for Health and Wellness
Valid: April, 2019 – April, 2021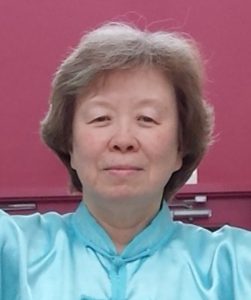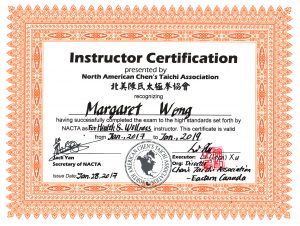 Margaret had always been interested in Tai Chi, Qi Gong and martial arts in her adult life. Her first teacher in Yang style Tai Chi was the late Master Lee, Shiu Pak in Montreal but she did not manage to stay with the practice at the the time. However, the positive effects she experienced from the Tai Chi practice stayed with her.
In November of 2008, Margaret started learning Qi Gong and Yang style Tai Chi from Master Zhou, Qian and in 2010, she also started taking Chen style Tai Chi classes from Master Leon (Li) Xu. It is through the guidance and patient teachings of these two Masters that Margaret finally grasped and felt the true meaning of "relax" and "letting go"… She strives to apply that in her Qi Gong and Tai Chi practice and also in her day to day living. These practices do not only just improve Margaret's energy and overall physical health but also sustain her with an inner peace in challenging times.
Margaret is leading the Qi Gong and Chen style Tai Chi practice class in Ottawa, and is an assistant in these classes with Master Qian Zhou and Master Leon Xu.
She is certified as an Instructor of Chen's Tai Chi for Health and Wellness by North American Chen's Taichi Association and Chen's Taichi Association – Eastern Canada.