Certified Primary Instructor: Level 2
Valid: October, 2017 — October, 2019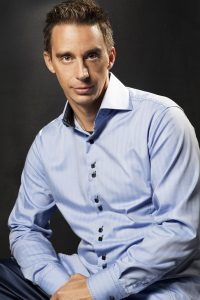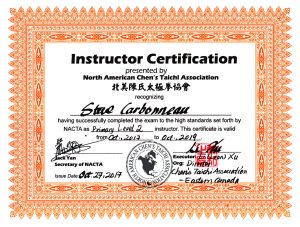 Actual: Founder of Institut Long Feng (established in 1994), Chief instructor
Shifu Steve Carbonneau (LONG YI WEN) has been training in martial arts since 1982. From Montreal to Beijing, he is taught traditional Kung Fu, Qi Gong and Tai Chi by Grand Master Shi Ching Wei and Master Huong Ming Cha of Beijing, who granted him his discipleship in 1991. Shifu Carbonneau has been awarded numerous medals and competed in several Kung Fu competitions in Asia such as the Deng Feng Wushu Cup and WKFC, just to name a few.
For 23 years, Shifu Carbonneau has been teaching martial arts. To him, teaching is a thorough transmission of expertise, techniques, and respect for the combined history and knowledge of all masters and masters of preceding generations. For this reason, he founded, in 1994, Institut Long Feng, now a well-respected Kung Fu, Qi Gong and Tai Chi school.
Following on his needs for transmission of knowledge, he trains Canadian Junior and Senior champions, in all-around categories. He teaches Kung Fu, Qi Gong and Tai Chi to the determined, serious and convinced student as well as the more casual student looking to maintain health and well-being through Chinese martial arts. His interest for a better understanding of the Chinese martial arts led him to the discipline of the Indonesian martial arts Kun Tao Silat. For three years, he has been trained by with Grand Master Williams Dethours and one of his disciple. In 1997, he becomes certified in Kun Tao Silat.
The next decade, from ShaolinTemple to Beijing Sports University to the high montains of Vietnam, Shifu Carbonneau added to his expertise of traditional Kung Fu, Qi Gong and Tai Chi by meditative retreats, workshops and specialized advanced training in numerous disciplines such as Qin Na, Sanda, Tui Shou, etc, while continuing to teach and train in Repentigny. In 2006, at the foot of the Song Mountains, he meets Shi De Cheng, 31st generation Shaolin monk, with whom he has been training in traditional Kung Fu on a regular basis in China as well as at the Institut as an honored guest and seminar leader.
In 2009, he is introduced to Chen Tai Chi by Master Leon Xu. From that moment on, once again led by his convinced passion and determination, he trains with Master Leon Xu on a regular basis. Continuous training being his way of life, he has also trained in Chen Village with Grand Master Cheng Zheng Lei and Master Chen Bin and lately, in Yangshuo, with Master Fu Neng Bin.
Eager to promote Chen tai chi, he hosted in 2013, at his school – Institut Long Feng – a Chen Tai chi seminar with Grand Master Cheng Zheng Lei as the guest of honor.
Shifu Carbonneau holds the position of treasurer for the ECCMAF since 1996. Also, twice a year since 2005, Shifu Carbonneau organizes and leads adventures and martial arts tours to China to several sites of relevant interests such as Shaolin Temple and ChenJiaGou. These tours are open to everyone, students and non-students.
Institut Long Feng, Kung Fu/Qi Gong/Tai Chi, Repentigny Qc
Founded in 1994 by Shifu Carbonneau, Institut Long Feng's mission is to promote and teach the philosophy, culture, history and practical applications of Kung Fu, Qi Gong and Tai Chi, regular classes, specific training, lectures, and workshops given by certified teachers as well as many honorable guests and Masters.
Institut Long Feng
Address: 114 Boul. Industriel, Repentigny PQ J6A 4X7
Phone: 450-581-6139
Website: http://institutlongfeng.com/